Eve Battle | València (EFE).- After a silence of five years in which she has achieved enough calm to "enter the poem", the Valencian writer Àngels Gregori returns to bookstores with "Jazz", a well-thought-out collection of poems that brings together her universe in around New York, his roots and his literary references, such as Emily Dickinson, Elizabeth Bishop or his friend Francisco Brines.
"Someone said that the poem never ends, it leaves and returns when it wants," says Gregori (Oliva, Valencia, 1985), in a conversation with EFE. Author, among other books, of "New York, Nabokov & Bicicletes" (Alfons el Magnànim Award 2010) and "When it was Friday" (Premio Poesía dels Jocs Florals de Barcelona 2013), the Valencian poet was president of PEN Català between the years 2018 and 2022, and is currently a member of the Valencian Language Academy and director of the Francisco Brines Foundation.
"Jazz", edited by Proa in Catalan, which was published on May 3 and is now in its second edition, also comes at a time of personal and creative maturity for the poet. Written in the "distance" that she finds in Manhattan, her "neighborhood" in New York, she actually speaks of her native Oliva, her ancestors and her people, whom for the first time she has dared to dedicate poems. "A symptom -he jokes- that I'm getting older."
New York, his place of return
New York, he assures, is the place to which he needs to return like one who rereads a book, because it is the city where he knows how to lose himself best in order to find himself again; and jazz, a musical genre that he uses to talk about things that "go by disorderly but at the same time meditated", as has been his poetry in the last five years.
The most important poem, on a personal level, the poet points out, is "Carta d'amor a la ciutat", which wanted to be the "great poem about New York and, unintentionally, has become the great poem about Oliva", since it tells the story of his great-grandfather, who arrived in the Big Apple in 1910, at the age of 16, fleeing poverty.
Gregori found in the Immigration Museum the certificate of his great-grandfather's entry into New York on May 19, 1910, the same day that the arrival of Halley's comet and "the end of the world" were announced. A "wonderful" story that "enlarges", he jokes, his particular film about the North American city, which together with Oliva and Barcelona make up his poetic cartography.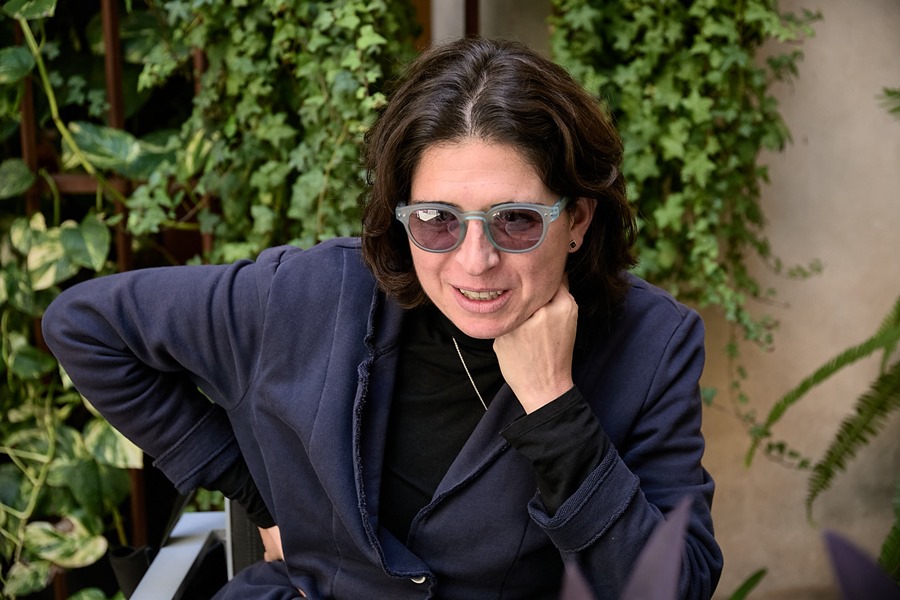 Conversations with Brines
The writer also remembers in the pages of "Jazz" her friend Paco Brines, whose conversations she longs for, especially in the last years of his life, many of them in late-night phone calls, because the poet was very nocturnal, to talk to him about some detail of his poems.
With "Una música per a Brines", Gregori remembers the poet -Cervantes Award Winner 2020 and who died on May 20, 2021- in a kind and friendly way, recalling his childhood, in the living environment they shared, since Brines was also born in Olive.
"He was a person who was very grateful to life, who always evoked childhood as his solid building and made his poetry an eternal elegy," says the poet. "Until the last day, she gave me lessons on how poetry is a form of ethics to bring opposing people closer," she thanks.
A life around the word
At just 19 years old, Gregori created the Poefesta festival in his hometown, with a budget of 800 euros, which was born "as a game" and this year celebrates its nineteenth edition. After a few years teaching at the university, the poet is now dedicated to cultural management and she has achieved one of her youth goals: to shape her life around the word.
Poetry festivals -he also directed Barcelona Poetry Week-, he points out, serve to "conquer new readers" and make them feel challenged. For this reason, he avoids criticizing phenomena such as "instagram" poets, since he defends that everything that helps attract readers to poetry is welcome.
She remembers when she was criticized for taking Viggo Mortensen to the Institut d'Estudis Catalans (IEC), or when she scheduled a poetry recital in Barcelona by the Canadian Rupi Kaur, which attracted 1,600 teenagers.
All the formulas are good if you get an approach to poetry, a genre that provokes respect "but it is the most faithful there is, because once you enter as a poetry reader you don't leave," he concludes.