Laura Ramirez |
Huelva (EFE).- The drop in temperatures and the rains that are registered these days in Andalusia are providing relief for the pilgrims of the different brotherhoods that since last Thursday have been walking towards the village of El Rocío to participate in the pilgrimage of Pentecost.
This "relaunched" spring, which has put an end to weeks with temperatures more typical of summer, has erupted as "May water" since the rain fallen in the areas through which the brotherhoods travel, far from generating inconveniences as it happened in 2016 -when there were changes in the route and advances in entrances and exits in the village-, they are refreshing the asphalt and settling the sand paths, making them more passable and mitigating the presence of dust.
The same thing happens with the temperatures: the registered decrease and the generalized cloudiness make the path more bearable, fundamentally, during the central hours of the day.
the pilgrimage begins
This Tuesday some thirty affiliated brotherhoods made their exit, more than half of the province of Seville, so that at the end of the day there were 50 corporations that had started their pilgrimage.
Some of the most emblematic and strategic points of the rocieros roads awaken, such is the case of the Bajo de Guía passes in Sanlúcar de Barrameda and the Vado del Quema in Aznalcázar.
In the first, the shipment of the affiliates, the brotherhoods have crossed to the Malandar beach, already in Doñana, to get closer to the village.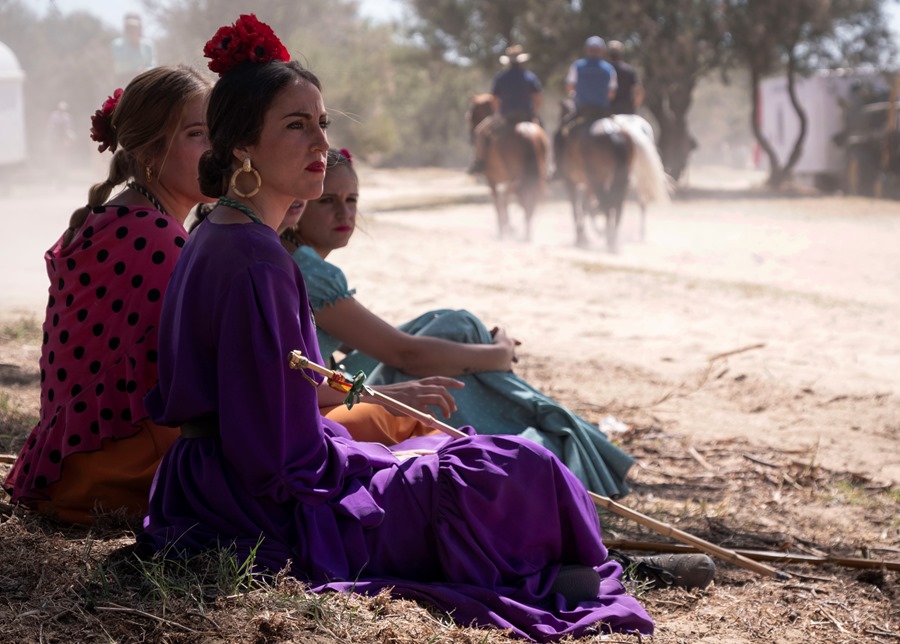 The Vado del Quema, for its part, located at the crossing of the River Guardiamar, in Aznalcázar (Seville), has welcomed pilgrims with an unusual image, since it is completely dry.
The steps are drier this year
The rains registered in the last hours have not been intense enough to load this pass with some water, which is traditionally the place of "baptism" for the new sprinklers.
Despite this, the brotherhoods have wanted to live it like any other year and, beyond the absence of water, they star in exciting moments around their simsinados in which, as is traditional, there is no shortage of salves, songs and the characteristic sounds of the flute and the drum.
The course of all these brotherhoods is done under the supervision of the Romero 2023 Plan, which was activated this Monday and since then has dealt with eight incidents, mostly health care, traffic incidents and requests for information and accompaniment to the affiliates.
For the next few days, the weather seems to continue in the same vein, with mild temperatures and the presence of rain more or less as up to now, that is, as an ally of the road.